Couples and Finances: Mapping Out Your Future with Money Mojo!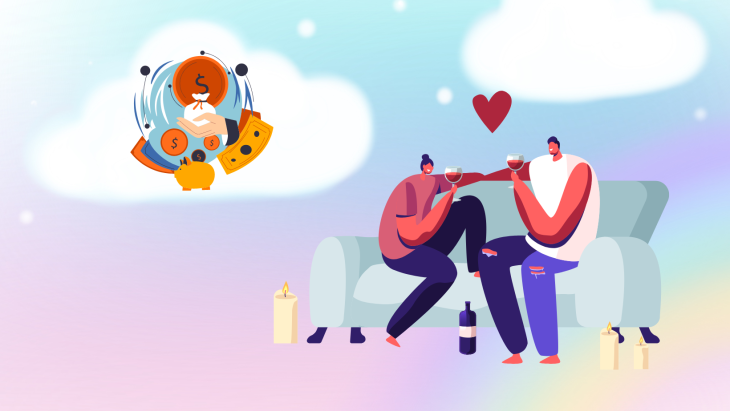 Lovebirds, prepare to embark on a thrilling adventure! No, I'm not talking about bungee jumping off a cliff or skydiving into a pool of chocolate (although that does sound amazing). I'm referring to the exhilarating journey of planning your future together, with finances in mind. Yes, I know it doesn't sound as glamorous as a rom-com movie montage, but trust me, it's essential.

Money has long been a taboo topic in relationships, often causing tension, arguments, and even breakups. But for power couples who understand the importance of planning their future with finances in mind, it can be a catalyst for growth, stability, and shared success.
The Celebrity Duo Who Nailed It:
Okay, picture this: you're sipping your morning coffee, scrolling through your Instagram feed, and suddenly, you stumble upon a power couple who've got their financial act together. Drumroll, please Enter the magnificent duo of Beyoncé and Jay-Z! These two titans of the music industry have not only conquered the charts but have also managed to build an empire together while keeping their finances rock-solid.
Now, you might be thinking, "But what do Queen Bey and Jay-Z have to do with us regular folks?" Well, dear reader, their experience serves as a brilliant example of how couples can plan their financial future like absolute bosses. So, let's delve into the secrets behind their money mojo!
Communication is Queen:
In the kingdom of love and money, effective communication reigns supreme. Discussing finances can be daunting, but it's crucial to get on the same page early on. Find a comfy spot, sip some wine, and have an open conversation about your financial goals, dreams, and fears. Remember, this is a team effort, and no secrets or Beyhive-level drama allowed!
Budget Like a Boss:
Creating a budget might not sound as thrilling as attending a sold-out concert, but it's the backbone of financial success. Beyoncé and Jay-Z undoubtedly know a thing or two about budgeting their millions. Sit down together and map out your income, expenses, and savings goals. Remember, a budget doesn't mean depriving yourself of life's little pleasures; it's about making conscious choices and aligning your spending with your goals.
The Savings Stash:
While Queen Bey may sing about being "Crazy in Love," she's anything but when it comes to saving money. Follow in her footsteps and make saving a priority. Set aside a portion of your income for an emergency fund, future investments, and those irresistible spontaneous adventures. Remember, you can't rock that dream vacation if you're always singing the "Bills, Bills, Bills" anthem!
Tackling Debt like a Power Couple:
Let's face it, debt can be a buzzkill. But fear not! With some strategic planning, you and your partner can conquer it together. Channel your inner Beyoncé and Jay-Z and develop a debt repayment plan. Prioritize high-interest debts, consider consolidation options, and celebrate each milestone you achieve. Remember, you're a team, and tackling debt is just one step closer to financial freedom and dancing like nobody's watching!
Invest in Your Future:
Just like Beyoncé and Jay-Z invest their talents in making chart-topping hits, it's essential to invest in your future. Educate yourselves about various investment opportunities like stocks, real estate, or even starting a side hustle. Build a diversified investment portfolio that aligns with your risk tolerance and long-term goals. And hey, who knows? Maybe one day you'll be sipping champagne on a yacht, living that "Crazy in Wealth" life!
But amidst all the financial planning, remember to inject some humor, love, and spontaneity into your journey. After all, life is meant to be enjoyed, and finances should never overshadow the magic of your relationship. So, here are a few bonus tips to keep the flame alive while you conquer the financial world:
Money Dates: Who said money talk can't be romantic? Spice up your financial discussions by turning them into "money dates." Dress up, light some candles, and have fun as you discuss your goals and dreams. Maybe even throw in a Beyoncé dance break for good measure.
Financial Challenges:Turn budgeting and saving into a fun challenge. Create friendly competitions with your partner, like who can find the best deals or save the most money in a month. Loser has to do the dishes for a week! Get creative and let the money-saving games begin!
Reward Yourselves: When you hit financial milestones or achieve a savings goal, celebrate together! Treat yourselves to a fancy dinner, plan a weekend getaway, or buy those concert tickets you've been eyeing. Financial success deserves to be celebrated like a true superstar.
Dream Board Party: Host a dream board party where you and your partner can visualize your future together. Cut out pictures of your dream house, dream vacation destinations, and any financial goals you want to achieve. Stick them on a board, sip some bubbly, and let the dreams flow.
Remember, it's not just about the money. It's about building a future together that's worthy of a standing ovation! So, grab your partner's hand, put on your financial superhero capes, and embark on this adventure with confidence, love, and a touch of glamour. With the right mindset, a solid financial plan, and a dash of Beyoncé and Jay-Z's money mojo, you're destined to create a future that is both financially secure and filled with love, laughter, and memorable moments.
As Beyoncé once said, "Your self-worth is determined by you. You don't have to depend on someone telling you who you are."
Now, go forth and make it rain... with financial success, of course!