The Top 20 Things to Put On Your Checklist for Your Job Hunt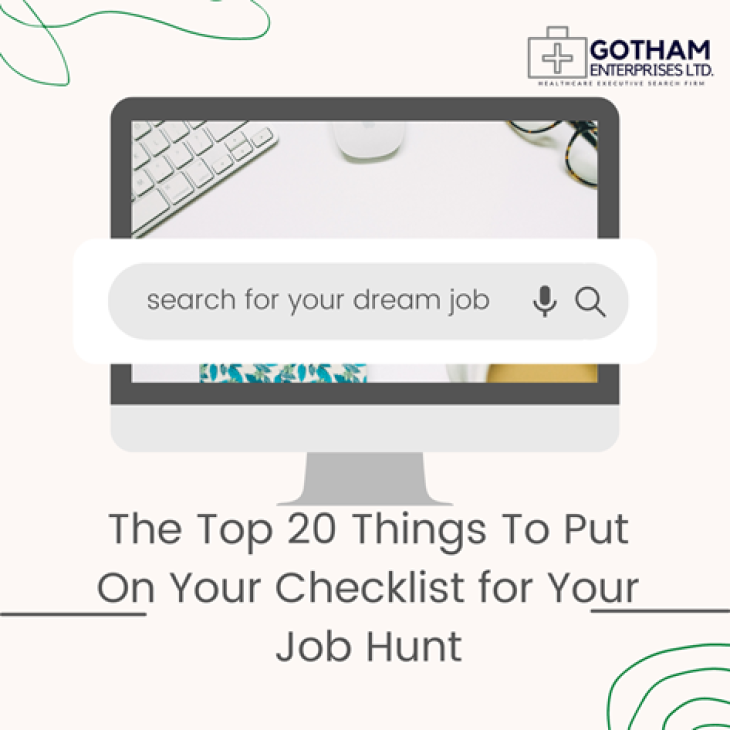 When embarking on a job hunt, it's crucial to stay organized and ensure you cover all essential aspects of the process. Here are 20 things to ensure that you are watching out for while job searching. Taking these steps into account will help make the process more seamless and hopefully expand your job searching abilities to find the right fit for you.
Self-Assessment is an important step when job searching. Evaluate your skills, interests, values, and career goals to identify what you're looking for in a job. Look for keywords to help your searching and also add to your resume if any apply to you.

Review all elements of your resume. Update your resume and tailor it to each job application, highlighting relevant skills and experience. Ensure it is up-to-date and represents your abilities.

Cover letter preparation is also a necessary step if the job application requires it. Create a compelling cover letter that showcases your qualifications and demonstrates your interest in the specific position. Even if it is not required, it is a good idea to create one or show a personal statement in your resume or portfolio.

Online presence is also key when job searching. Review and optimize your online presence. Including social media profiles and professional networking platforms like LinkedIn. Ensure you are also following and interacting with the company accounts to show interest. As well as understanding the social media they use as a company if that is necessary for your job position.

Networking and strong communication skills will help you. Build and expand your professional network by attending events, connecting with industry professionals, and utilizing online networking platforms. This way you can engage and connect with the community in a different way and know who to connect with when in the industry.

Research companies that fulfill you and your goals. Conduct thorough research on companies you're interested in to gather information about their culture, values, and opportunities. If you do not enjoy your work environment, it will be a miserable experience. Enjoy where you work.

Job search platforms are great tools for applying and seeking jobs all around the world. Utilize online job search platforms and subscribe to relevant job alerts to stay updated on new opportunities. Use their filters as well to help narrow down your searches.

Customized applications will also make you stand out to more companies. That is because you are catering your skills to their needs. Tailor your applications for each position by aligning your skills and experiences with the job requirements.

Professional references are typically needed in entry level and specialized nice careers. Identify and inform potential references about your job search, ensuring they are willing to provide positive recommendations. Also ensure you have accurate references for the industry you apply for.

You got an email back to schedule an interview! Now it is time for interview preparation. Research common interview questions, practice your responses, and prepare examples that showcase your skills and achievements.

Dress for success and embrace your confidence. Plan and assemble appropriate interview outfits that align with the company culture and industry norms. Be yourself, but do not dress inappropriately or casually to a job interview.

Practice with mock interviews. Conduct practice interviews with a friend or mentor to refine your responses and boost your confidence. Ensure they have an idea of what to ask and what industry it is in. Even better if you have someone within that industry to help give you tips and advice.

Conduct company research before the interview, Dig deeper into the companies you're interviewing with to understand their mission, recent news, and industry trends. Stay up to date and possibly mention their recent achievements you respect within the interview.

Plan the logistics for in-person or virtual interviews, including travel arrangements, directions, or technical requirements. Ensure you have time to get ready, drive there, endure traffic if necessary, and find where to go for the interview. Be on time and leave earlier to help.

Send follow-up emails. Send personalized thank-you emails within 24 hours after each interview to express gratitude and reiterate your interest. This will make you stand out and seem grateful for the opportunity. If possible, a physical card being sent by mail can also be attractive and seem like you are thoughtful.

Salary research should give you an idea of what you should be earning. Research salary ranges for similar positions in your industry and geographic location to have realistic salary expectations. Find the ballpark range or a median between the two and keep that in mind when salary is mentioned in the interview.

A negotiation strategy should be in the back of your mind when discussing aspects of the job. Prepare a negotiation strategy for salary, benefits, and other factors based on your research and market value. Stand up for what you believe you deserve and the value of your worth. Although do not rub a potential new employer the wrong way by not being flexible or asking too much initially.

Carefully evaluate job offers, considering factors such as salary, benefits, work-life balance, growth opportunities, and company culture. Make sure it is a nice fit for you. If there are any compromises being made, are they ones that you can live with? Especially in the long run?

Reference checks are also necessary. Inform your references when you're close to receiving an offer, so they are prepared for potential reference checks. They will appreciate being informed of that contact rather than being surprised.

Resignation Process: Plan and execute a professional and respectful resignation process from your current job, giving appropriate notice and tying up loose ends. Two weeks is generally good practice. Although, if you can do it earlier and it is more convenient for you, inform them of your notice as soon as you can.
Remember, this checklist serves as a general guide, and you may need to adapt it based on your industry, career level, and personal circumstances. Customizing your job search approach will increase your chances of finding the right job that aligns with your goals and aspirations. Good luck and have fun while job searching!

#JobSearchTips #CareerAdvice #ResumeTips #CoverLetter #OnlinePresence #Networking #CompanyResearch #JobSearchPlatforms #CustomizedApplications #InterviewPreparation #DressForSuccess #MockInterviews #CompanyCulture #FollowUpEmails #SalaryNegotiation #JobOffers #ReferenceChecks #ResignationProcess #CareerGoals #ProfessionalDevelopment