He Proposed To Me But We Broke Up. I Just Found Out That He Got Married After A Month Of Our Breakup. What Should I Do?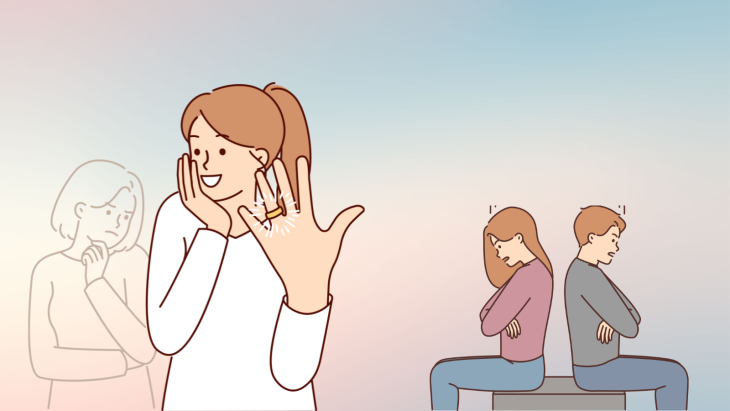 He Proposed To Me But We Broke Up. I Just Found Out That He Got Married After A Month Of Our
Breakup. What Should I Do?

Breakups are never easy to deal with, and when they follow a marriage proposal that might be extremely
devastating that anyone may experience. You believed you'd found the love of your life, but something
went wrong, and the relationship ended. Imagine a situation where you were in a relationship with
someone who proposed to you, but for some reason, you decided to break up. Time passed, and you
recently discovered that your ex-partner got married just a month after your breakup. So, what should you
do in such a situation? Let's explore some steps to help you navigate these challenges and find your path
to healing.

1. Allow Yourself to Feel: The first thing to remember is that your feelings are valid. It might be really
upsetting to learn that your ex got married so soon after your breakup. Giving yourself time and space to
process your feelings is important. You could experience shock, sadness, frustration, or a mix of these
emotions. It's normal to feel sad about the end of your relationship and the future you had planned.

2. Seek Emotional Support: In times like these, having a strong support system is crucial. Talk to close
friends or family members who can provide a listening ear and emotional support. Sharing your feelings
with someone you trust can help you process your emotions.

3. Reflect on Your Relationship: Take some time to reflect on the last relationship you had. What were the
strengths and weaknesses? What did it teach you? Every relationship teaches us important lessons about
who we are and what we desire in a partner. This self-reflection can help you grow and prepare for healthy
future relationships.

4. Avoid Comparison: It's natural to compare yourself to your ex's new partner and wonder what they
have that you didn't. However, remember that every relationship is unique, and comparisons are rarely
fair or accurate. Focus on your own journey and personal growth instead.

5. Prioritize Self-Care: Now is the time to prioritize self-care. Engage in activities that make you feel good,
whether it's practicing a hobby, exercising, or simply taking a relaxing bath. Self-care can help you rebuild
your self-esteem and confidence.

6. Seek Professional Help: Seeking the advice of a therapist or counselor might be quite helpful if you're
having trouble coping with your thoughts or feelings. They may provide ways to cope and help in handling
the complexity of your emotions.

7. Block or Limit Contact: Limit or avoid communication with your ex on social media to avoid unnecessary
emotional distress. It might be upsetting to see updates about their recent marriage, therefore it's
appropriate to prioritize your mental well-being before anything else.

8. Set New Goals and Priorities: Take this time as an opportunity to set new goals for yourself. What are
your aspirations outside of a romantic relationship? Whether it's advancing in your career, pursuing a new
hobby, or traveling, setting and achieving goals can boost your self-esteem and provide a sense of purpose.

9. Forgive and Let Go: Forgiveness can be a powerful tool for healing. While it may take time, try to forgive
your ex-partner and yourself for any mistakes or regrets. Holding onto anger and resentment only prolongs
your pain and suffering.

10. Open Yourself to New Possibilities: While it's essential to heal from the past, don't close yourself off
to future love and relationships. Your ex's quick marriage may have been a rebound or a way to cope with
their own emotions. Remember that everyone's journey is different, and your path to happiness is unique
to you.

To sum up, it might be distressing to find out that your ex-partner got married soon after your breakup.
However, it is important to prioritize your recovery and well-being. Allow yourself to feel, seek help,
and concentrate on self-care and personal growth. In the end, your happiness and future are defined not
by your past relationships, but by your ability to move forward and establish a life that is worthwhile for
yourself.