She Still Loves Me But Broke Up The Engagement Just Because She Says She Doesn't Feel Safe and Secure. What Could be the Problem?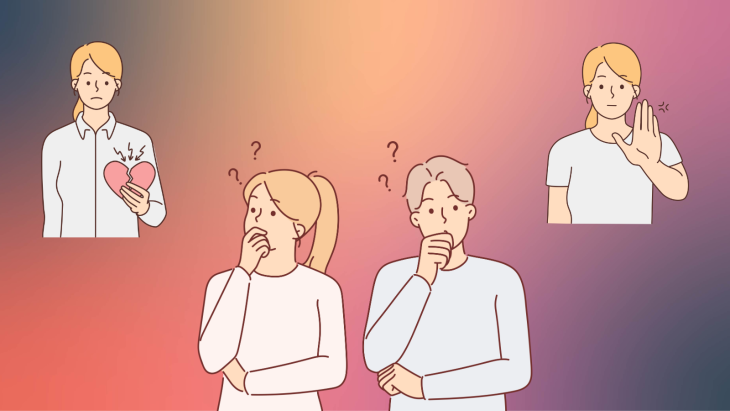 She Still Loves Me But Broke Up The Engagement Just Because She Says She Doesn't Feel Safe
and Secure. What Could be the Problem?

There is nothing more devastating than a woman feeling that she can't rely on her man because
she feels insecure and unsafe in the relationship. It is even worse when she cancels off
engagement due to this issue. What could be the problem?

There are so many reasons for women to feel unsafe and insecure in a relationship. And yes,
women are complex that way because they are not only relying on what can you offer them for
financial stability but also on what can you add to their emotional and mental well-being as a
partner in life.

So step up and man up to avoid being abandoned by the woman you love. Here are some
reasons why women feel unsafe and insecure around you:

1. The Quality of Your Integrity

Are you a man of your word? Or you are keen on cheating your way up when no one is looking?
If women see their men cheating people on their jobs, then they will begin to wonder what else
will their men be willing to cheat on to get their way.
This will then boil up to the direction of your relationship. No matter how devoting of a partner
you are, if you do not conduct yourself with integrity in the outside world, you are as good as
trash ready to be discarded.

2. Your Financial Capability

Not all women want a CEO for a boyfriend or husband. They just want someone who will offer
financial stability in a relationship as well. We live in capitalism and there is no more free in this
world except for air, sunlight, or undeveloped bodies of water in the environment. So, having
someone you can rely on in the tempest (such as losing a job or sudden financial emergencies),
is ideal and it could greatly turn the tide.

Even independent women love a guy to depend on concerning this.

3. A relationship Lacking of Emotional Attunement

A relationship does not only involve physical satisfaction. It also revolves around the emotional
connection between couples. If you fail in this arena, then the foundation of the relationship is
slowly crumbling.

You need to make time to evaluate where you stand with her emotionally and whether you
meet her needs and expectations. Get attuned to her emotional state and you will come
victorious in this area as women are mostly emotional beings.

4. The Chink of the Armor

If you thoroughly evaluate yourself and find no fault in yourself ( which I must trust that you
are being self-critical on this), then you better communicate with her where her decision is
coming from.

She may had previous circumstance that needs resolving. If she had any, help her get through it
all. There is nothing impossible if there is unity in the relationship.

Takeaway:

It is well-known that a relationship is hard to navigate. Especially if it involves two people with
differences and personalities. Issues of insecurities and feeling unsafe in a relationship may
not be newly discovered problems in the world of married or engaged couples. That means,

There are hundreds of ways to overcome it together to have a successful relationship.
Effective communication is key to all of the problems in the relationship. Use it to your own
advantage.