My Wife Has Recently Changed Her Entire Wardrobe. She Changed Her Hairstyle By Shaving It Bald. She's Got Multiple Face Piercings. What Does This All Mean? She Says It's The New Version of Her.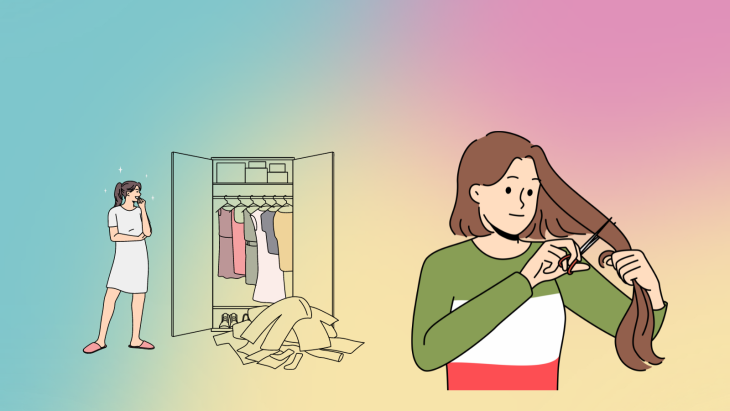 My Wife Has Recently Changed Her Entire Wardrobe. She Changed Her Hairstyle By Shaving It Bald. She's
Got Multiple Face Piercings. What Does This All Mean? She Says It's The New Version of Her.

Life is full of changes, which come in many ways. Your wife's decision to change her whole wardrobe,
become bald, and adorn her face with several piercings is part of her wonderful journey of self-discovery.
Let's explore the reasons behind her transformation and appreciate the profound significance of her
actions.

Your wife's decision to go through such a radical transformation was motivated by her desire to embrace
a new version of herself. It's important to keep in mind that as we grow up and navigate life, our identities
change. This transformation reflects her self-growth and desire for integrity.

First and foremost, her new wardrobe represents her desire to express herself in new ways. Fashion has
always been a form of self-expression, and her transition to a new style implies that she is exploring other
aspects of her personality. It appears that she is letting go of her previous conformity and embracing a
style that is more aligned with who she truly is. This change in her wardrobe reflects her growing self-
confidence and willingness to venture outside of her comfort zone.

Second, shaving her head bald expresses her strength and independence. Her decision to completely cut
off her hair is a significant resistance to societal and cultural expectations that are often symbolized by
hair. Furthermore, it represents her commitment to live life on her terms and not be limited by
traditional beauty standards. True beauty comes from inside, and her shaved head is a symbol of her
bravery and a reminder of that.

On the other hand, her several face piercings, while visually incredible are also an important factor in her
transformation. Tattoos and piercings both have significant personal meanings. This is a type of body
transformation that allows people to take back control over their bodies. In her case, the piercings are a
kind of art and an expression of her uniqueness. Each piercing conveys a tale, a part of her path to self-
discovery.

Understanding her change demands recognizing that it is about more than just her external appearance;
it is also about her inner growth and self-acceptance. She aspires to be genuine to herself rather than
trying to live up to social norms or gain approval from others. Her transformation is her way of expressing,
"This is who I am, and I am proud of it."

Furthermore, it is essential to communicate openly and supportively with your partners throughout times
of transition. Admitting having worries and queries when your wife made those changes. You
wondered whether she was going through a challenging time or whether there was an underlying issue
about your relationship, but instead of making quick judgments, you chose to have a heart-to-heart
conversation with her.

By understanding and being willing to communicate you can grasp her reasons and thoughts about her
transformation. Knowing that this transformation was a way for her to embrace her individuality, challenge
societal norms, and achieve personal empowerment. Her openness and sensitivity helped you two get to
know one another better, and it also reinforced your appreciation and affection for her. Your love and
appreciation for her were strengthened even more by her honesty and transparency, which helped you
two connect on a deeper level.

To sum up, your wife's recent transformation, including changing her wardrobe, shaving her head, and
getting multiple face piercings, is a powerful statement of self-discovery and self-acceptance. It signifies
her growth and desire to live authentically. It's important to support and celebrate these changes, as they
often lead to deeper understanding and stronger relationships. Your wife's transformation is not just about
her appearance; it's about inner strength, courage, and commitment to being the best version of herself.