My Wife Is A Completely Different Person On Social Media. She Over Shares Our Life To Strangers. How Can I Get Her To Stop This Behavior? I Value Our Privacy.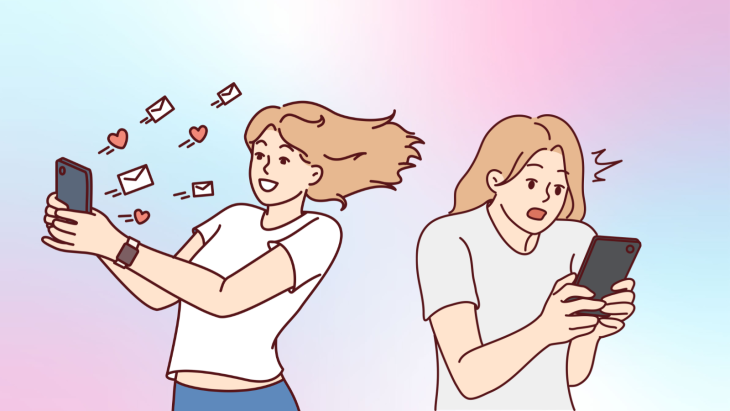 My Wife Is A Completely Different Person On Social Media. She Over Shares Our Life To
Strangers. How Can I Get Her To Stop This Behavior? I Value Our Privacy.

The rise of social media is both a blessing and a curse in this modern world. With billions of
Internet users, it is noted that two-thirds of them are social media users.

Meeting people, dating for fun, finding entertainment, using to boost business branding,
gaining education, or just connecting with people, in general, has never been made easy
through social media.

People could share and post anything on their walls on Facebook, Instagram, WhatsApp, TikTok,
or YouTube. Many gain popularity as well as money over these platforms by sharing almost
anything about their lives.

Despite the cons of having social media and its benefits to people in general, it has its set of
drawbacks. Such as:

1. Able to connect hundreds to thousands of people virtually at the tip of your fingertips but it
causes distance to people in real life.

2. Oftentimes, family bonding or going out with friends are mostly spent with phones glued on
faces, lacking interactions in real-life settings.

3. It may have been a good source of information but it can also be a wellspring of
misinformation.

4. Also causes addiction, an origin of cyberbullying, a distraction, a cause of cheating, and even
worse, a feeding ground for hackers.

It is imperative that you watch out for what you share on social media as tons of people will
have access to the information you freely share without discretion. There is nothing wrong with
sharing, but when you get to the point of oversharing, you might fall into the dangers you never
knew existed until it happened to you.

If you have someone who tends to share more than necessary on social media, you should
encourage them to stop it and warn them of the risks like the following:

1. Escalation of Family Problem

Sharing about some private matters like arguments between spouses may cause more strife as
people will either be involved in the drama or watch as the drama unfolds. Instead of working it
out in private and resolving it fast, the fight will likely escalate. The worst part of it, even if
matters are already okay, people already know of the dirty linens in your family.

2. Becomes an Easy Target

Going on a vacation? Don't tell a soul about it. Not in social media. If you do so, you are a
fundamental target of people with bad intentions. If they know that you are not at home for a
vacation in Bora-Bora, that means your residence is unguarded and an easy target for robbery.
Trust me, you don't want to be back at home with broken locks on doors, a messy house, and
missing valuable things.

If you still want to flex your getaways through social media, post it after the vacation, and you
are already back in your home.

3. Personal Information Theft

Yes. Hackers can use your information for their own benefit. Trust me, it won't ever be in your
favor. So limit sharing your emails, contact numbers, birthdays, bank info, and other
things that are deemed personal to you.

It is better to talk things out if the issue of oversharing is present in the family. Gaining likes
from people who never really know you does not define you as a person. Cite that
privacy is important to you and necessary for the family's safety, bonding, and mental wellness.