My Boyfriend Wants Me To Wear A G String or Thong Every Day. Why Do Guys Want That?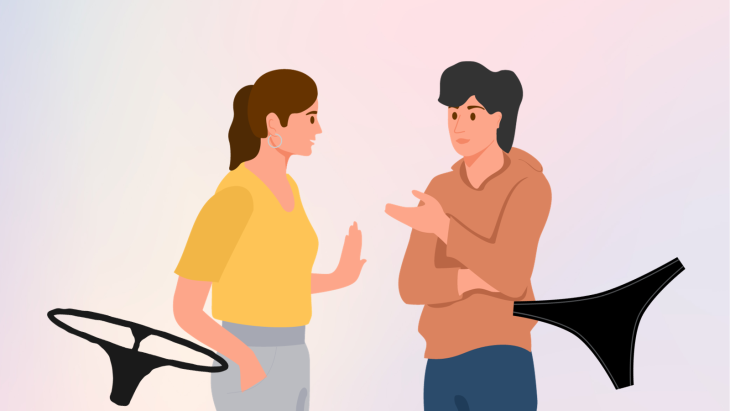 My Boyfriend Wants Me To Wear A G-string or Thong Every Day. Why Do Guys Want That?


One common thing about G-string and Thong? They never went out of style. Just imagine that those
undergarments gained prominence in the 1930s. Yes! It's been around for more than 90 years! Those
were commonly worn by women performers in every burlesque show in the United States.


By the 1980s, these underwear became available in the Western world and have been widely used by
various people, men and women, nowadays. In strip clubs, this is often the first choice of costume when
performing since these pieces of fabric attract more male spectators.


As men are generally visual creatures, (stimulated through what they see) it is not uncommon for some
guys to suggest wearing G-string or Thongs to their girlfriends. One study conducted by Psychologists
shows that men's testosterone temporarily surges when an attractive woman comes into a scene.
Seeing the girl they love, looking so good and attractive on Thongs, serves as sexual stimuli which could
send a 'feel good' sensation to their brain.


But the question is, do you have to force yourself to fit into a thong or G-string when you don't want to?


The answer is no. This is not an era where women's voices are suppressed. You have the right to refuse
such a request. Nevertheless, as a relationship also takes compromise, maybe you should consider trying
it out first for a week and see where it will lead you then.


To cheer you on in this journey of yours, see the following positive impact of wearing thongs or G-strings'
every day:


1. It could boost confidence. Try wearing one and check yourself in the mirror to see how you'd look on it.
For sure you'd be amazed how it just accentuates the freedom of your bum. Choose what fits you and

what's working for you. For starters, you may want to settle on thongs first as it is thicker and wider
from behind unlike on G-strings which has...well, a string behind.

2. It is comfortable. Only if you get past the trial stage. You will be eternally grateful for thongs. It won't

leave any marks if you decide to slide on your tight dress for a party and your moves won't be restricted.
This is why women in sportswear this for this reason.

3. It is sexy. No question there. Since those are purposely made scant, it is for the enhancement of

attractiveness when worn in the privacy of your bedroom. You can stimulate your partner's urges
when he casts eyes on you with your red lingerie.

For a takeaway, there is nothing wrong with being adventurous even if it's changing normal panties to a dozen of thongs
or G-strings. Just be sure that you like wearing those for yourself and not for anyone else.