How Your Wardrobe Can Affect Your Sex Life?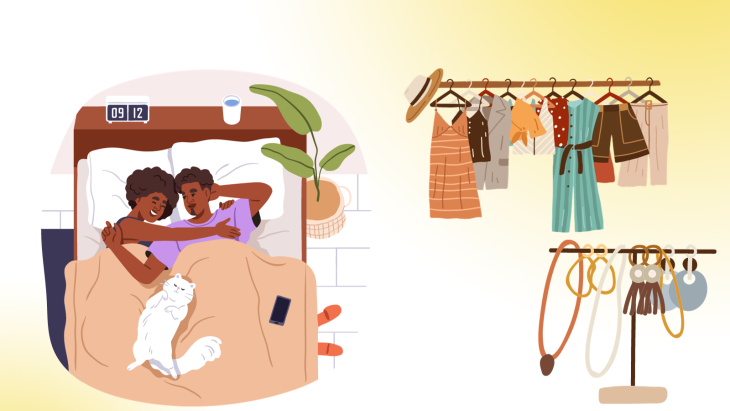 How and Wardrobe Can Affect Your Sex Life?

Wardrobe have drawers and shelves where clothes, shoes, and accessories are kept. So, does a
mere part of the house can affect your sex life?

Studies have shown that the contents of your wardrobe can affect how you think of yourself.
The color choices, the clothes neatly piled on the shelves, and the shoes and bags that you deem as
precious as you are can do wonders on the cognitive part of the brain.

Furthermore, wearing flattering clothes can make one feel empowered and confident. No
wonder that the fashion industry has been quite prevalent not just in Paris, where it housed
many designer brands but also around the globe. Consequently, dressing down (wearing a
baggy t-shirt and flip-flops on most days) could influence the couple's dynamic in bed.

There is nothing wrong with dressing in comfort. Especially around the house. At work, we may
be required to dress up in code but at home, at least, it is allowed to slide into your old but
comfortable clothes.

Nevertheless, as clothes don't make the person, men or husbands still prefer their women dress
up occasionally...even around the house. As men in general, are visual creatures (stimulated
sexually through what they see), it's natural for them to get attracted to women who wear
scant clothing. A test conducted by psychologists has proven this to be true. A man's heart rate
accelerates when a beautiful woman comes into a scene.

This implies that men will be men and have the innate desire to look and to like beautiful things.
One man recollects how he just straight-up hates his wife's fashion. Her wardrobe was filled
with second-hand dresses. He bought her new ones but she refused to wear them. Seeing her
unkempt appearance was a 'libido killer' for him.

Take note, he fell for her because she dressed attractively before. In their marriage, she
stopped trying to maintain the appearance that her husband once loved. Of course, childbirth
can change a woman in almost everything. Mainly physically and mentally.

As child-rearing is challenging and sometimes burdensome, wives sacrifice too much, even
forgetting to take care of themselves. Some may even be in their PJs from morning until the
evening. Some missed showers for being too busy around the house. Some missed a lot of sleep
while their kids were their complete slumber. Ah, the pain of motherhood and being a wife.

However, as you are responsible for being a mother of your children as well as being a wife to
your husband, you must be responsible for your own welfare. Make time for yourself. Create a
routine that will allow you some 'me times'. This includes working out (though this feat is
almost impossible to achieve it's doable), taking some time off from your chores or duties
and treating yourself once in a while, demanding some late nights with your girlfriends,
shopping for new clothes or shoes, and the like.

This way, you will not only be doing yourself a favor but you're also doing it for the overall wellbeing
of your family. Indeed, a happy wife will create a happy life at home.